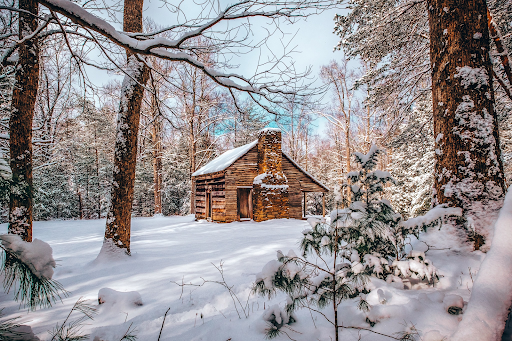 After months on end of hard work and mundane routines, there may come a time when you feel the need to shake things up a bit. Traveling is the most effective and enjoyable way to jump into a new groove. With so many inspiring things to do in Gatlinburg, your next trip outside your comfort zone should be to the Great Smoky Mountains of Eastern Tennessee. Immerse yourself in the solitude and excitement of the mountains when you stay at any of the following top-rated hotels and lodging in Gatlinburg.
The Historic Gatlinburg Inn
Originally constructed in 1937 to house the chamber of commerce, the Historic Gatlinburg Inn is an intrinsic part of the local history. After its numerous past lives as a local newspaper, bank, dentist office and city office, the building now lives on as a quintessential landmark of Gatlinburg. Countless celebrities, artists and presidents have passed between its walls over the years, positioning it as an iconic hotel in a small mountain town. Your choice of 70 renovated rooms, including specialty suites and presidential suites, comes with a Serta Perfect Sleeper mattress double bed or king bed, a 42-inch flat-screen television, free breakfast and convenient proximity to the major downtown attractions. This rustic venue furnished with historical photographs and paintings whisks you into the magic of the past.
Bearskin Lodge
Bearskin Lodge is a unique getaway due to its picturesque architecture and warm, homey interior design. With a genuine bear skin hanging in the front lobby and a scenic location on the banks of the Little River, you'll get the full mountain immersion experience when you stay here. Enjoy a free breakfast every morning before catching the Ober Gatlinburg Tram right outside the door to check out the downtown attractions. After a day of adventuring in the nearby Great Smoky Mountains National Park, you can come home to cool off in the lazy river or rest up in your modern suite with comfortable beds, gas fireplace and private balcony with a view. Bearskin Lodge combines Southern hospitality with the luxury of breathtaking scenery.
Also Read: Travel Hacks for Safe Travel
Fairfield Inn & Suites Gatlinburg Downtown
When convenience and stress-free travel are your top priorities, look no further than Fairfield Inn & Suites in downtown Gatlinburg. Each spacious room is fully furnished with modern amenities, including WiFi, a television with HBO access, a mini-fridge, complimentary toiletries and free breakfast. They also offer accessible accommodations, a fitness facility and an outdoor swimming pool. The best part about Fairfield Inn & Suites is that it is within walking distance of Ripley's Aquarium, the Gatlinburg Convention Center, Ole Smoky Moonshine Distillery and a variety of popular restaurants. Expect all the comforts you're used to, minus the hassle of figuring out how to get around!
Camp LeConte
If you're looking for a more unconventional way to stay, then this luxury outdoor resort at the foot of Mount LeConte is for you. Camp LeConte offers four exciting accommodation types: European safari tents, homey RV campsites with full hookups, adorable 1960's retro campers and a real-life treehouse. When you're not taking advantage of their free WiFi, gorgeous pavilions and swimming pool, check out the Camp LeConte General Store. Afterward, hop on the Gatlinburg Trolley just outside for a 15-minute ride to the downtown shops and restaurants. This family-owned business brings glamping to the next level amidst the splendor of the Great Smoky Mountains.
Greystone Lodge on the River
Greystone Lodge has been serving Gatlinburg area guests for over 50 years. Located on the Little Pigeon River and only two miles away from the Great Smoky Mountains National Park entrance, this photogenic resort offers the ideal scenery in which to pass your vacation. Greystone Lodge also scores high in convenience with Ripley's Aquarium right across the street and a trolley stop at the front entrance taking you to other downtown shops and attractions. You won't be skimping on comfort for the sake of location, either. After a $7.5 million renovation, this quaint resort now features private balconies overlooking the river, cozy cottages for the whole family and a vintage atmosphere with photos of early 1900's Gatlinburg.
Diamond Mountain Rentals
For the ultimate retreat into the magnificent mountains, there's nothing quite like cozying up in a woodsy cabin for the weekend. Diamond Mountain Rentals rents one- to four-bedroom cabins, condos and chalets with jaw-dropping mountain views. When you book one of their condos situated on the Little Pigeon River, you can step right outside your back door for a dip in the fresh, cool waters. Diamond Mountain even offers pet-friendly cabin options so that you don't have to leave your furry best friend behind. Many cabins come with swimming pools and hot tubs, free WiFi, fireplaces and a pool table. Be sure to check out their website for a comprehensive guide of Gatlinburg attractions, local history and other resources.
Also read: TRAVEL TIPS AND TRICKS FOR FIRST-TIME AND SEASONED TRAVELERS
Glenstone Lodge
Glenstone Lodge is a popular hotel in the Gatlinburg area, not just because of its proximity to the downtown shops, eats and sights. Their variety of accommodations suits every type of traveler, from couples to solo adventurers to families. Their king and double queen bedrooms are clean, smoke-free, and come with a flat-screen television, coffee-maker, mini-fridge and microwave. Their large outdoor pool will keep the kids entertained during downtime while the adults test their skills on the indoor putting green. The multi-level outdoor pool features an incredible two-story waterfall and ample sitting room on all sides. Amidst sightseeing and outdoor adventures, the most pleasant part of your trip could actually be the luxury and restfulness of your stay at Glenstone Lodge.
A change of scene has the power to break up old habits and introduce a sense of renewed energy to your life. The Great Smoky Mountains' gently rolling landscapes and enchanting forests near Gatlinburg may be the scenery you need to re-discover your center. When you finally return home after your travel challenge, you may even find that you are better equipped to enjoy ordinary life a little more fully.