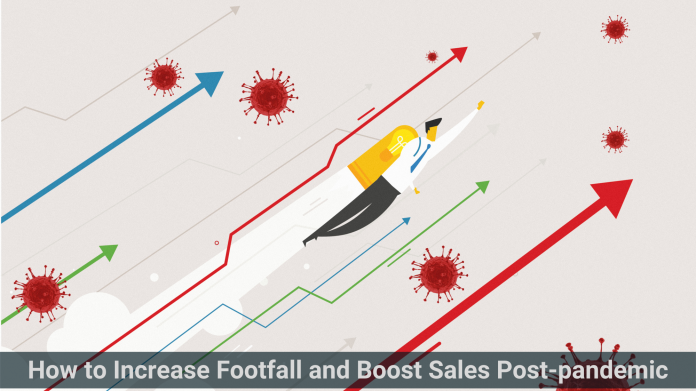 Whilst many eCommerce shops continue to see booming sales, sales in brick-and-mortar stores are still lagging behind. However, by creating unique brand experiences that are only available in real life, you can remind customers of what is in store for them in-store and get them through the doors, off their phones, and making purchases.
Create unique experiences
Understandably, some customers are still hesitant to go shopping in real life when they can shop in the comfort and safety of their own home. One way to coax them out is to offer an experience in-store that isn't available anywhere else. With consumers choosing to spend more of their money on experiences rather than physical items, combine the two with a unique offering that only your store offers. Hosting one-off events, shopping experiences for loyal customers, or in-store only discounts is a great way of encouraging footfall and then, once customers are in, having the opportunity to showcase the changes you've made since they last visited.
Invest in loyalty
Say thank you to the customers who have stuck by you by investing in a loyalty program. Invite your members to exclusive sales and events in-store that allow them to benefit from their continued loyalty and you to benefit from their in-store browsing. Make your loyalty program an immersive experience that reflects your brand's true values by working with experts like TCC Global and seeing customers reward you in kind with boosted retention figures.
Why brands should consider Digital Out-of-Home advertising for their post-COVID marketing strategy.
Embrace technology
63% of shopping experiences begin online but they don't have to stay there. Savvy brands are exploring ways of streamlining their in-store experience whilst still increasing footfall. One way in which you can appeal to shoppers who take safety as a priority is by combining online shopping with the in-store experience. Allow shoppers to browse online catalogues but offer a free collection in-store and make sure you have plenty of eye-catching displays and offers to entice them when they come to collect their online purchases. Ensure contactless purchase options are always available and navigating the store itself is as easy as possible.
Offer in store services
Make every aspect of an in-store visit a personalised and engaging experience. Make pre-bookable personal shopping appointments available, offer a free gift-wrapping service or refreshments, and ensure your customer service strategies are on point so that customers have a positive and memorable experience from the minute they set foot in the door. With 58% of shoppers saying they believe online shopping lacks the service offered in-store, make sure to capitalise on this by marketing the knowledge and expertise of your staff. Positive experiences with your sales team will result in positive brand association and increased retention.
To increase footfall and boost sales post-pandemic, be sure to focus on creating a cohesive, positive, and personalized experience for the in-store shopper. Host bespoke and exclusive events with loyalty-based offers and rewards, big up your staff as experts in the field and ensure customer loyalty for years to come.
And there you have it – 4 important ways that you can increase footfall and boost sales in the post-pandemic world.
Read About How To: How Faqs