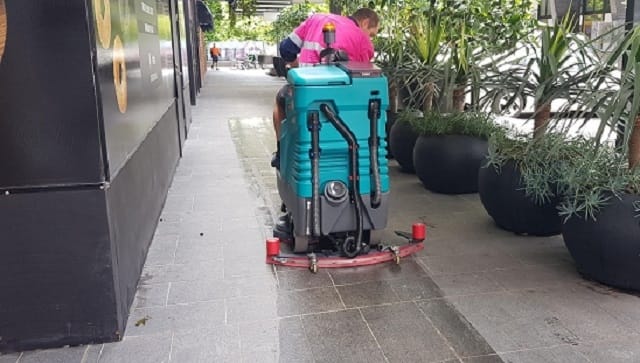 Floor cleaning is an essential part of keeping your home or place of business clean and safe at all times. However, with many floor cleaning equipment options available on the market, it can be hard to decide which type of machinery to purchase. Most people don't know where to start when it comes to choosing the appropriate cleaning equipment. But, don't worry as we are here to help!
This guide will take you through 6 factors you need to consider before buying a floor scrubber machine and other cleaning equipment.
1. Material of the Surface
Wood, stone, tiles, ceramic, cement – the list for types of floor materials are endless. However, you need to keep in mind that each type of floor needs specialized cleaning machines that are compatible with the floor's material. If you buy a general-purpose cleaning machine, you can easily damage your floor. Invest in multipurpose floor scrubber machines, such as ones made exclusively by ASC. They are ideal for cleaning places like schools, corporate offices, and shopping malls.
2. Size of the Surface
Before you buy a floor scrubber machine, you should also consider the size of your cleaning area. You can find a large number of machines on the market dedicated to both domestic and commercial cleaning. However, you need to choose one that meets your requirements.
Simple floor cleaning machines such as vacuum cleaners are suitable for domestic cleaning, but commercial places require more complex machines, such as scrubbers and ride-on sweepers. The cleaning width of a commercial scrubber or sweeper will indicate the size of the area your machine can cover. The width you select will also impact your cost to operate the equipment, especially if you consider your cleanable surface area.
3. Power Source
Cleaning machines are usually classified based on the power source that they use. Some cleaning machines work on diesel or petrol while others work on electricity.
Cleaning machines that use electricity require power cables and plug connections that can restrict the machine's movement. Hence, in larger areas, we always advise people to use cleaning equipment that operates on diesel or petrol.
4. Type of Dirt and Debris
Another factor you must consider before buying floor cleaning equipment is the type of dirt and debris you wish to clean. If the debris and dirt are lightweight, you can choose simple cleaning machines like vacuum cleaners and sweepers.
However, if the dirt is hard and oily, like grease, it would be best to use high-pressure machines like a floor scrubber machine or a drier.
5. Type of Machine
Battery-powered sweepers and vacuum cleaners are popular choices for domestic use. They are practical, use rotating brushes, and provide high coverage for small to medium areas. Their main aim is to get rid of debris and dirt.
Conversely, floor scrubbers are an advancement from mops and buckets. They are mainly used in commercial settings when thorough scrubbing is required to clean the area. They fit all types of surfaces, primarily wood and marble, in all kinds of commercial spaces.
The two most common types of floor scrubbers are:
• Walk-Behind Floor Scrubbers
Walk-behind floor scrubbers are best for cleaning smaller facilities that are hard to manoeuvre with large equipment. They are also perfect for areas that are usually difficult to operate with larger machines. However, we do not suggest using a walk-behind machine in larger areas as this can reduce the machine's half-life and increase labour costs for you.
Some of you might be drawn to a walk-behind machine for a larger area due to its low cost, but you will only profit from the low initial cost at the start. Later on, you will be hampered by the diminished life of the machine, increased downtime, and poor performance.
• Rider Floor Scrubbers
Rider floor scrubbers are ideal for cleaning large and spacious areas. They are designed to reduce fatigue as you clean a large area. Smaller rider scrubbers manoeuvre effortlessly because they have a smaller turning radius.
Using a rider floor scrubber machine is an excellent choice if you save time and avoid exhaustion. These machines work perfectly for massive hallways. As a result, more people might be willing to volunteer to clean your premises.
6. The Machine's Complexity
Nowadays, most of the machines available in the market are easy to use. Companies include a manuscript containing technical details of products in the packaging before they ship the products to you. The instructions are usually easy to understand. However, sophisticated machines that require special training might seem too complex for your cleaning staff. In that case, we suggest seeking the help of your cleaning equipment supplier.
Final Words
Floor cleaning may seem like quite a troublesome errand that requires a great deal of manual exertion and time, but with specialised machines, you can reduce this trouble! An appropriate floor scrubber machine can make your space squeaky clean in no time!