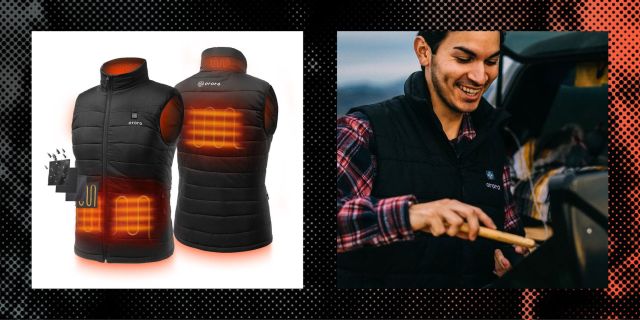 Drinking hot chocolate and enjoying in the snow is something we all look forward to in the winters. However, staying warm and keeping away the cold may not be an easy feat. Even though sweaters and coats do keep one warm but they restrict free movement. Hence the next in style wardrobe one must have are the heated vests.
Also Read: 7 Best Heated Gloves Reviews (2020 Buying Guide)
These heated vests operate in a manner to help you maintain the natural body temperature during all winter activities.
Also Read: 5 Best Heated Insoles Reviews
Now the multiple options available in the m`arket may confuse you with your choice hence we have listed below the 5 best heated vests to help you keep your 2020 winters cozy and warm. https://thebusinessgigs.com/7-best-heated-gloves-reviews/
The 5 Best Heated Vest 2020: Types & Reviews
1.      ARRIS Heated Vest: The Budget Friendly Vest
ARRIS Heated Vest is the budget friendly option in the list of best heated vests that we have compiled below. Even though ARRIS is inexpensive but it serves the purpose well.
Although its features state that the vest is for men only however it can be comfortably worn by women and children as well. Hence it can be safely regarded as unisex option when it comes to heated vests. It has five adjustable heating levels that you can customize with temperatures ranging between 104°F to 176°F.
The adjustable temperature allows complete circulation which also aids in relieving any kind of pain in the body. However, ARRIS does not have a battery which means you have the option to choose your power in between the voltage of 5.0 – 7.4V.
Moreover, you do not need to worry about getting burned because the heated vest has a thermal protection module integrated inside. In case the vest overheats, it will be automatically turned down to a bearable temperature.
As far as the material is concerned, the vest is made of soft fleece along with carbon fiber to aid heating. The warming effect with ARRIS can last as long as 10 hours. In fact, its thin layer is an added benefit because you can layer it up under your coats as well for additional warmth during winters.
2.      ORORO Lightweight Heated Vest: The Heated Vest for Women
ORORO manufactures lightweight yet effective heated vests for women in particular. The vests are constructed out of pure nylon which makes it lightweight and durable.
Many women prefer wearing ORORO underneath another jacket but it is considered one of the most fashion forward and trendy heated vests supplying warmth at the right locations to the body while allowing free movement.
Furthermore the vest comprises of 4 heating elements made of carbon fiber that run through the hands, trunk, mid back and the entire colored area. This makes it ideal for prolonged used during winters. Also you can adjust the temperature from the 3 heating levels using the relevant button.
The vest is powered by a battery which if charged fully will run throughout the day and keep you warm. It can run up to a good 10 hours or you can keep it connected using a USB charger for additional charge.
So if you have a morning jog routine, winter sport hobby, camping weekend plans, you do not need to give up on any of those simply because of chilly weather. ORORO Heated Vest will keep you warm.
3.      Unilove Heated Vest: The Power Bank Compatible Heated Vest
The Unilove Heated Vest will become a budget friendly option if you already own a portable power bank. All you would need to do is invest in this heated vest and you are good to go for your winters.
The thin layer vest is an ideal choice to line additional warm clothing under your winter wear while it is completely water and wind resistant as well. It will operate with a power bank which runs at a voltage of 5V and can also be charged through USB chargers.
However one drawback of Unilove is that it does not have integrated batteries hence you will have to invest in those separately. Nonetheless, it is totally safe to use and effective in its purpose.
The Unilove Heated Vest comes integrated with 3 heating zones towards the back while you can adjust a suitable temperature from 5 different heating levels.
These features make the vest ideal for outdoor winter sports, activities for men, women and children. If you ask for the recommendation on the compatible power bank then the vest works ideally with the Anker Portable Battery Pack.
4.      Milwaukee Heated Vest: The M12 Heated AXIS Vest
Milwaukee is the same renowned company that manufactures leather however their M12 heated AXIS vests are famous for their durability and warmth.  They have a unique vest design and in fact is much more spacious than others in the market.
The vest is integrated with carbon fiber based heating elements which generate heat and retains in the back, chest and shoulders. You can configure these heating elements easily through an LED controller that harbors 3 heating levels to choose from.
Moreover it has a Quick Heat function as well which allows the spread of heat 3 times faster than its other competitors in the market. Its battery lasts for up to 8 hours which is sufficient to get you through a chilly winter day.
The best is constructed out of polyester making it convenient for physical activities. Since its light weight and features compressed tailoring it does not restrict movement either and can be lined under additional winter wear as well. While the high loft insulation technology retains the generated heat inside making it water and wind proof.
Lastly, to provide you space to keep your phone and wallet the vest offers 2 spacious pockets on the outside and one towards the inner side.
5.      VentureHeat: Men's Heated Fleece Vest
Last one among out top 5 is VentureHeat Men's Battery Heated Fleece Vest which is a small package containing all the essentials to get you through the chilly, snowy winter days and nights in your region. This product is not a budget friendly option in the list but still all its features are worth the price.
The VentureHeat Vest is specifically designed for men in terms of its tailoring. It comes integrated with a battery and a charger while there are 3 heat levels of temperature that you can select from according to your needs.
It also has an inner temperature controller which keeps you safe in case of malfunction in the heating elements or over-heating. Then according to the temperature setting, the warming effect can last for at least 5 hours if it's fully charged beforehand.
The best feature about VentureHeat is that it is extremely thin which makes it easy to be worn under a sweater, coat or jacket without feeling over stuffed while providing an additional layer of warmth in the freezing winters,
The Final Verdict
If you have gone through the list of our 5 best heated vests of 2020 the million dollar question is which one to choose from for your winters this year? There is no one right answer to this question. In fact you should op for the one that serves your needs and falls within your budget.