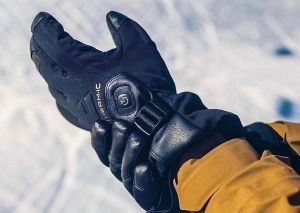 The 7 Best Heated Gloves 2020 to keep your hands functional during freezing winters Winters demand hot chocolate, coffee with dash of whipped cream and just about everything to keep you warm. However, the freezing hands can leave one paralyzed outdoors and the pain that comes with frozen finger nails is unbearable and heated gloves are the only ultimate solution.
Yes, you heard that right, rechargeable heated gloves are an essential piece of accessory that one must have in their winter wardrobe. They can keep your hands warm for prolonged periods under he most freezing of temperatures.
Also Read: 11 Best Electric Heated Blanket Reviews
However, since the market competition is at the peak, figuring out the right brand and type of head gloves for you may not be an easy feat. And you do want to invest in the right ones because they will be your personal heating device the entire freezing winter season.
To help you ease the selection process, we have compiled a quick heated gloves buying guide for you listing the top 7 ones along with their details and reviews. Simply browse through the quick catalogue and choose the one that serves you the best.
The 7 Best Heated Gloves 2020: Type & Reviews
1.      Savior Heated Gloves: Affordable for Men
Savior Heated Gloves are an ideal affordable option for men who are in search of uninterrupted warmth. Composed with a lambskin and polyester outer material, the gloves are resistant to water and wind both. The interior of these gloves are layered with pearl cotton providing warmth to the skin underneath.
Moreover, these gloves have an additional later of carbon fiber designed specifically to keep your knuckles safe. What is interesting is that Savior Heated Gloves have three customizable temperature settings using which you can adjust the warmth you require.
You can recharge these gloves powered by a 2200mAh lithium-ion battery which in fact can begin the warming process just within 30 seconds of switching them on. The in-built heating elements are designed to cover the entire length of fingers to keep them completely warm.
Temperature Levels: 3
Fabric: Polyester and Lambskin
Waterproof and Wind Resistant: Yes
The Benefits
Customizable temperature settings up to three levels.
The carbon fiber layers keeps the knuckles safe outdoors.
The battery operations begin the warming procedure in 30 seconds.
Ideal in freezing temperatures.
The Drawbacks
Low durability due to polyester material.
2.      Aroma Season Heated Gloves: Affordable for Women
Aroma Season Heated Gloves would be a complete warming affordable package for women. The gloves can be customized with three temperature level settings that you can customize using the button designed at the back.
These women heated gloves use a rechargeable battery to start the heating element which then warms up the whole of your palm, hand, fingers excluding the thumb. In fact your fingers under these gloves can still be compatible for touch screen hence you can stroll across the town, use your hand held devices and keep yourself warm.
Moreover, the Aroma Gloves come with a Hipora insert that is water resistant and lets air pass through. This special insert maintains the warm temperature and keep your hands dry during extreme cold weathers.
Temperature Levels: 3
Fabric: Polyester and a Hipora Insert
Water Resistant: Yes
The Benefits
Not heavy on the pocket. Budget friendly option.
Auto shut down system for security.
Compatible to be used on touch screens.
Can go up to 9 hours on lower temperatures.
The Drawbacks
Low durability.
Narrow range of colors to choose from.
3.      Volt Heated Work Gloves: Gloves for Outdoor Jobs
If you are a construction worker or have a job outdoors during the winter season, then Volt Heated Gloves are your most useful tool in the arsenal to keep your hands running throughput the day without frostbite. These gloves are heavily insulated with a built in heating core that can be customized to up till 4 temperature settings.
These gloves have an addition padded layer that covers the palms of the hands offering long durability. In addition to this there is a soft fleece layer for added comfort along with a cinch cord to stop the cold wind from getting in.
The gloves are resistant to water with the breathable membrane warming the entire hand not only the palms of your hand even in severe winter temperatures.
Temperature Levels: 4
Fabric: Leather
Water Resistant: Yes
The Benefis
Water resistant but with a breathable membrane.
Four heating customizable levels.
Inner soft fleece lining with durable leather material
The Drawbacks
Can be a bit bulky.
Lack of dexterity.
4.      Verseo's Heated Work Gloves: The Outdoor Work Gloves
Verseo's Heated Work Gloves are another great option of heated gloves for people who have outdoor jobs in the winter weather but need their fingers fully functional. The gloves are not bulky hence give you full hand function but also are comfortably insulated to help you stay warm.
These heated gloves are constructed with thin liners which can be used by combining with thick leather for extra safety. However, you can use them as it is as well for full hand function. The material used in their construction is composite fiber which evenly spreads the heat across your palm and hand.
Furthermore, the gloves also have an anti slip lining towards the palm hence if you have work in which tools are used, these are ideal. The gloves complete full charging in 3 hours and can perform for 5 hours in the extreme cold weather.
Temperature Levels: 1
Fabric: Carbon Fiber and Polyester
Water Resistant: No
The Benefits
Room for complete hand and finger function with full dexterity.
Lined with anti slip surface.
Easy to charge.
In extreme weather can be layered with additional gloves.
The Drawbacks
Not water resistant.
Need additional gloves for extreme freezing temperatures.
5.      Hestra Heated Mittens: The Skiing Heated Gloves
Hestra Heated Mittens are ideal when simple heated gloves just don't keep you warm enough during your skiing adventures. They are lined with extra warm synthetic insulation which make use of your natural body's heat and keep it as an insulator.
Also these mittens have an additional heating element integrated inside to warm your hands wiyh three levels of customizable temperature settings. The material used for construction is Flexon Nylon Shell which is extremely tough in terms of durability. They are also resistant to water since they contain a CZone waterproof membrane.
You can safely adjust the heating levels using the control button. The mittens come with a international adapter for their charging hence they are safe to carry around for skiing all across the glove.
Temperature Levels: 3
Fabric: CZone, Nylon and Synthetic Insulation
Water Resistant: Yes
The Benefits
They are resistant to water.
High durability.
Extremely warm for the freezing weather.
The Drawbacks
Not budget friendly.
Low dexterity.
6.      Sun Will Heated Liners: Thin Heated Gloves
If you want to have complete dexterity and only need a thin layer of gloves to keep you warm as you go out of the house during winters, then Sun Will Heater Liners would be ideal for you. These gloves are constructed with lycra, hence provide complete hand and finger function.
They are also compatible with touch screen usage hence ideal for using hand held devices outside. Also, you have the choice to adjust temperature to three different settings that you can customize. At high battery, the gloves can provide function for 2.5 hours making it ideal for a walk to downtown.
Furthermore, they are equipped with infrared heating elements that cover the bank of your hand and finger for full warming effect. Under extreme winters you can layer even thicker gloves over these liners for maximum warmth.
Temperature Levels: 3
Fabric: Lycra Material
Water Resistant: No
The Benefits
Can be used with touch screens.
Provide complete finger and hand function.
Customizable Heating levels.
Can be used under thick gloves in freezing temperatures.
The Drawbacks
The insulation is low without the heating element.
Not water resistant.
7.      Outdoor Research Stormtracker Heated Sensor: The Outdoor Ideal Heated Gloves
The Outdoor Research Stormtracker Heated Sensor are the wind resistant gloves that will keep your hands super warm in extreme winter months. You can easily use your touch screens through them hence they are ideal for outdoor activities.
The gloves are equipped with an easy to navigate operation button that you can use without having to remove them every time. They are also integrated with special Primaloft Gold insulation which traps and sustains the heat gathered from the heating element built inside.
Moreover, the Stormtracker gloves are known for theuir durability and are resistant to water as well with goat leather palm material allowing you to have complete grip over your palm function. They come with a TPU injection design to protect your knuckles and fingers from any scratches.
Lastly, the gloves offer complete dexterity hence are even ideal for construction workers or climbers in the winter season.
Temperature Levels: 3
Fabric: Polyester, Goat Leather, PrimaLoft Gold
Water Resistant: Yes
The Benefits
Offers complete dexterity and can be used on touch screens.
Added insulation for prolonged warmth.
The Drawbacks
Not budget friendly.
Not fully water resistant.
Frequently Asked Questions
What is the process used by heated gloves for heating?
All heated gloves come with a specialized heating element integrated inside the lining. This element is battery operated which then uses the power to generate heat across the glove through electrical wires inside.
However, because these gloves are battery operated, they need to be frequently charged if you want to use them for longer hours. Many of the gloves take only small hours to charge and can operate for another few hours.
Are heated gloves safe to use?
Yes. The heated gloves are totally safe to wear and use. Even though many users feel that the heating element may cause their hands to burn, but these gloves have protective elements to shut off the heating system in case the wires short circuit. This keeps you safe from burning your hands or getting electrocuted.