Seeing your hard-earned subscribers leaving your mailing list is heartbreaking. As marketers, we spend a lot of time and effort attracting visitors through various content marketing and social media marketing strategies as well as paid marketing. This is followed by providing value that convinces people to establish long-term relationships with your brand. In fact, all inbound marketing activities are acquiring the email addresses of customers and prospects at some point in their sales funnel.
Thus, email list unsubscribers are looked upon as results of email marketing failures or at least bad indicators for your brand strategy. However, this is not the case every time. In this article, I am going to give you some great reasons to understand why email unsubscribes are inevitable and even necessary. These reasons are penned after consulting many html email developers, marketers, and designers over the course of my career. Read this article ahead to know why you can stay relaxed despite people opting to unsubscribe.
Unsubscribers Help Improve Deliverability
Here, I am not talking about a high unsubscription rate. That will surely dent your deliverability metrics. Unsubscribing is better than getting marked as "spam" as your subscribers are more likely to hit the unsubscribe button as compared to marking you as spam. They are not interested in buying the products you offer, or their purchasing power might have changed since they subscribed. In any case, you cannot completely prevent unsubscribing. Also, disengaged subscribers are more likely to lower your open rates, click-through rates, and overall deliverability. 0.5% unsubscribe rate is healthy for your email list.
Unsubscribers Stop Draining Your Energy
It is but natural that disengaged subscribers are least likely to purchase anything from you. This is indicated by the fact that they are not interested in consuming content from you. They simply bloat your mailing list and keep consuming your resources. These subscribers are more likely to engage your customer service reps for consultations and write unnecessary emails that hold no mutual value. Search cases aren't rare to find in a large mailing list. Parting ways with them is nowhere harmful to your marketing strategy or business as they are most likely killing their time and never intending to buy from you.
Unsubscribers Indicate Flaws In Ongoing Campaigns
For an ongoing campaign, you can trace any serious flaw if you notice an unusual number of contacts unsubscribing. The reason could be a severe mishap of the automation workflows impacting segmentation and personalization or sending irrelevant offers. Improper use of customer demographics could also be a probable reason. Therefore you can track the email campaigns and mark any adverse effects of a particular type of email templates, copy, subject lines, and even images. Thus, they behave as indicators of glitches.
Unsubscribers Increase Mailing List Hygiene And Help Refine Marketing Strategy
One of the problems with having a large, growing mailing list is maintaining list hygiene. It refers to having only relevant and qualified leads that have maximum chances of engaging with your emails. If a person willingly unsubscribes due to relocation, changing their firm, or changes in their income pattern, it is a good signal for you.
This saves you from running retargeting and retention email campaign series due to a lack of information about particular contacts. On the other hand, this also declutters the available information for refining your existing marketing strategy. Having people who don't intend to hear from you can deviate your efforts, ultimately affecting your happy subscribers.
Unsubscribers Give Honest Feedbacks
In most cases people give honest reviews and feedback when they unsubscribe. It is always a good idea to ask for reviews from them. This acts as a win-back chance as well as you can get insights regarding their dissatisfaction.
The reasons can include improper mailing frequency, getting irrelevant messages, subscribing by mistake, or even because they were interested only in the gift promised for joining the list. Having these insights help figure out the loopholes in your email marketing strategy and recalibrate your efforts. You can always offer instant solutions for problems like sending too many emails by letting them choose a convenient mailing frequency.
Here's an example of doing so by Atlas Obscura: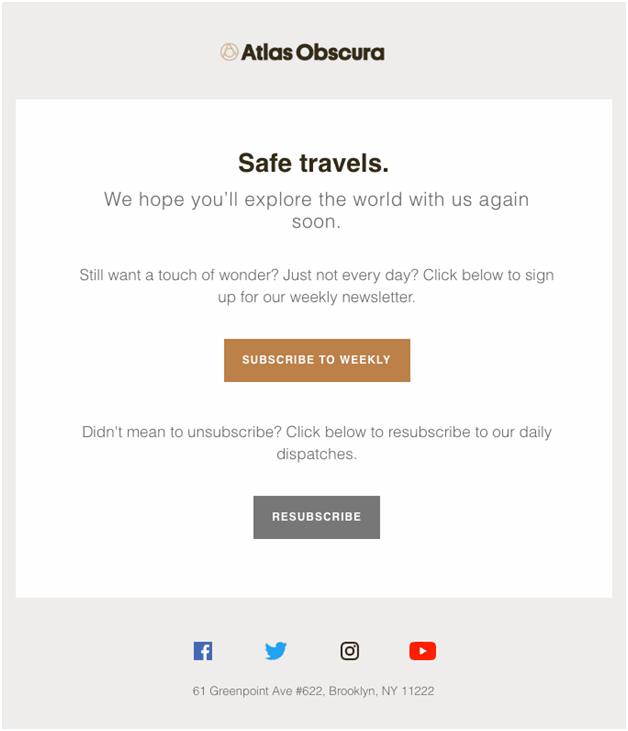 Wrap Up
Despite the obvious negative backlash of losing on qualified prospects, retaining 100% 0f them is neither possible nor desirable. Your goal should be keeping the unsubscribing rate to a bare minimum and analyzing if the unsubscribers were among your target audience or not. The average unsubscribe rate sits at 0.2% while spam rate is 0.02%. All in all, it is a part of every email marketing campaign, and as long as you aren't witnessing major setbacks, it's absolutely fine. As we saw above, it can be beneficial too. I hope you find this article useful for your future email marketing endeavors.
Author Bio
Kevin George is Head of Marketing at Email Uplers, one of the fastest growing email design services companies, and specializes in crafting professional email templates in addition to providing email automation, campaign management, and data integration & migration services. He enjoys sharing his insights and thoughts on email marketing best practices on his blog.